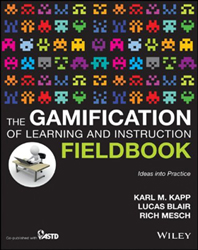 It was a pleasure contributing Chapter 8 – "Managing the Process" for Karl Kapp's newest book "The Gamification of Learning and Instruction Fieldbook".
The book is packed with foundation concepts and techniques, tools, resources, tips and advice from a broad range of contributors producing Serious Games, Gamification, and Simulations.
Chapter 8 explains the production of a long-form educational game, using our Course Games production model and examples from our recent projects – including sample production planning documents and tools.